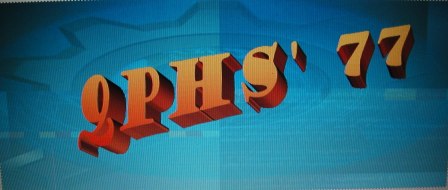 Graduation Issue: Volume XLV No.7
1976-77





CLASS PHOTO




Rowena S.Duyan,Edita T.Del Mundo,Arthur Javellana,
Wilfrefo J.Obien,Ma Piedad S.Geron,Celso M.Zarsuelo,
Renato M.Vergara,Joselito C.Valero,Minerva T.Lacap,
Marily M.Flores,Girlie A. Cabral,Ma Conception A.Ramos,
Marilou A.Castillo,Emily C.Marquez,Jerardo R.Santos,
Arnel B.Jalbuena...

IV-GV

Maraming aktibo sa mga co-curricular activities sa pangkat na ito. Mataas ang tungkulin nina Nelson Singson sa Arnis Club. Ang gandang-Pilipina na si Aurea Anternor ay maaasahan sa makabago at katu-tubong sayaw. Siya rin ang majorette ng QPHS band. Mahusay sa pagpinta si Roy Guerrero. Maraming nakapapansin sa magandang si Merlinda Dalita.

An interesting assembly of talents and beauty
Section GV- Mrs.Gilda A.Villabona(Adviser)

click picture to enlarge

From left-(first row): F.Agawin,J.Manalo,H.Cruz,S.Lacuesta, Ignacio,
A.Sacristia,J.Manzano,Galizdo,Mrs G.Villabona,(adviser),L.Abaca(treas),
V.Medenilla,F.Manalo,A Malicem(treas),M.Dalida,(v.pres),(third row):
J.P.Fiera,R.Palcone,E.Adriano,A.Flores,L.Villoria,A Antenor(rep & muse);
E.Surquia(sec.),I.Obnial,N Pedro,J.Pureza,E.Idea.(forth row):A.Arenas,
L.Cuevas,V.Yason,S.Manalo,L.Estacio,M.Andal,E.Laano(PRO),
R.Millares(PRO),R.Katigbak,C.Lodronio,A.Circulado,(fifth row):
E.Adona,R.del Mundo,B.Reyes,M.Cabreros,(pres),N.Singson(sgt.at arm),
F.Lacson(rep.);R.Guerrero,(not in photo),N.Balbarosa.


IV-MV

Sa simula,sila ay IV-TAA,naging LRB,JV at ngayo'y MV. Umabot sa apat na palit ang tagapayo ng pangkat na ito. Sa kabila noon,patuloy na nagkakaisa sa mga gawain. Malaki ang tiwala ng tagapayo sa kakayahan ng bawat' isa. Si Jocelyn Rioflorido ay napapasama sa senior's honor roll. Si Francavier Villate ay tinaguruang barefoot hero ng long distance marathon noong pampaaralang palaro. Dalawang sikat na Maritess ang narito--si Maritess Caja ang pambato ng senior's sa pag-arte at Maritess Parafina na aktibo sa dance troupe at kabataang barangay.

Where the stars abound
Section MV-Miss Miriam P.Verora(Adviser)

From left:(first row):M.L.Faller,M.A.Jarnero,J.Rioflorido,M.Abastillas(treas);
M.Galera,Mrs L.Batanes(former adviser),J.Ayapana,P.Casino,A.Silang,
E.Odnimer,(vice pres.),C.Bay.(second row)A.Alcantara,L.Maranan,
N.Sarmiento,D.Villena,A.Fernandez,Miss T.Abcede(former adviser);
Miss M.Albrando(chief adviser);Y.Ilagan,M.T.Caja,A.Racelis,E.Leonorio,
L.Velluya;(third row):C.Abrigo,D.Aldea,P.Flancia,C.Ramiro,M.Parafina,
L.Llamas,C.Duco,B.Baladad,(sec);M.V.Nicolas,S.Diala,F.Virtucio(fourth row):
F.Enriquez,S.Jaca,A.Villanoa,C.Eva,R.Dacer,M.Manalo,W.Rodriquez,M.Luscano,
A.Amponin,(fifth row):N.Rodriquez,A.Amiote,(pres),M.Lusterio,L.Hermogenes,
F.Villante,D.Lagdameo,H.Alcoreza(auditor), A.Pierto(not in photo)
Miss M.Verora(adviser)

---

Editorial Staff 1976-1977
CLASS WILL AND TESTAMENT
After living up to campus lifestyle, We bestow...
We, the graduating class of school year 1976-1977, have taken pleasure in living up to campus lifestyle for four years.

Given chances to indulge in varied profitable endeavors, we were led to find definitions of responsibility , discipline, commitment and ambition. For such deeds,We believe that only throught sharing our little acquired abilities,skills and talents can we fully express gratitude to our Alma Mater.

Thus, with humility, we bestow to our junior counterparts:
Michelia Oriel leaves her academic excellence to Ma Delia Canela and Roel Tito Marcial;The leadership of Jonathan Villasante to Nelson Profugo; Renato Vergara's talent in physics t Rico Trinidad; interest in science projects of Ramon Beloso and Julianito Mercado to Jesus Trinidad and Ambrocio.

The editorial seat and journalistic ideals of Ricardo Cueto Jr; to Elvis Sadia, his prize-winning poster slogans to Isabelo Pizza and artistic to Olive Villanueva;
Prowess of Freedom De losa,Ofelia zurbano, Bernardita Aragon and Dante Lopez in math to Victor Fisico, Virgilio Pelaez,Cesar Zurbano,Benedicto Ambrocio and Julisses Albufera;Ofelia Lascano's flair for oratory to Belinda Lucero and Agnes Maristela;

The abilities of the seniors panel of actors and actreses,Marilyn Flores, Marites Caja, and Herminio Tina to Ruben Litan, Ronaldo Rafer,Byrnie Rivera,Rosary Anday and Carmelito Emralino;

The grace and captivating charm in dancing of Marites Parafina,Leonila Remo to Maribel Libranda, Amelia Reyes, Ligaya Ragulo, Delia Martinez,and Wivina Tagarao;
The spic-span looks of Marjorie Osia,Cristina Tolentino,Darlene Palada,Diza Vega and Hernando Hernandez to Loida Rosales, Mary Ann Maano,Edna del Mundo,Henry Ev dente and Virgilio Fuentes,
Sensitivity to general information of Jerardo Santos,Marilou Castillo, Marilyn Masiglat and Eriberto Deduce to Anne Jalbuena,Ma.Theresa Gendrano and Anglina Alcance.,

The superlaugh-in and jokes of Arnold Parale.Eduardo Genoso, Cecilia Bay and Irma Magbanlac to Emmanuel Manguera, Corazon Diaz,Ronulfo Rigos and Paciencea Valdez.
CAT I top positions to Rodolfo Abcede,Ariel Alcala, Lolita Dizon,Chona Fuentes,Madeliene Armamento,Jocelyn Ortigosa,and Sara Jean Gutierrez.

The looks and poise of Ruth Trinidad,Edna Sabiduria and Lilibeth Lopez to Jocelyn San Pedro.Teresa del Rosario and Adela Zapanta. To our teachers, we cannot offer anything except the sincere promise to keep the flame of loyalty to the school and commitment to have place in any developmental measure ever burning.
Signed and sealed on this day,30th day of March in the year of our Lord nineteen hundred and seventy seven in Room 53,QPHS Lucena City.
Attested by:
(Sgd.) Jonathan Villasante
Senior Assembly Governor
(Sgd.) Nelson Profugo
Junior Assembly Governor
(Sgd.) Ma Piedad Geron
Features Editor, The Coconut